Current News

Welcome to our website!

The Friends of the Schoolhouse web site will keep you informed about The Old Britannia Schoolhouse and the activities and events planned by the Friends' organization. We encourage you to check this site often. New information will be added monthly.
Planning for 20-21
This year has certainly been one of doing things differently. Usually in early July we have a Planning Meeting to review the past year's activities and plan for the year ahead. This year we had our meeting but rather than getting together for the morning and then having a pot luck lunch, we all met from home online over several days. Except for fall activities there was little to review since all events after February were cancelled. What to plan for this year? At this point it's impossible to know. We will continue to keep in touch through our newsletters and the website. We look forward to the day when the schoolhouse will reopen and all our lives get back on track. We can't say "back to normal" since no one knows what "normal" will look like.
Ruth Taylor's term as chair is over and Margaret Storey is the new chair. A Vice Chair has yet to be named. All other positions remain the same.
This will certainly be a year to remember in the 168 year history of S. S. 12, the Old Britannia Schoolhouse.
COVID 19 Information
All Friends of the Schoolhouse activities are cancelled until further notice. There will be no Open Sundays until September. Watch the Current News page for information in the coming months. The Friends wish everyone good health in these difficult days and weeks We look forward to seeing you at the schoolhouse in the future.
Wearing Masks, An Ancient Tradition
As we try to keep at bay the COVID 19 pandemic, we are experiencing many things that are totally new and unfamiliar. Isolating from family and friends, food shopping only when necessary (or ordering groceries online), doing without a haircut for weeks, working from home or, worse still, not working at all are only some of the sacrifices we've had to make. Now we need to get used to wearing a mask when we are in public places. Unless you have lived in China or Japan where face coverings are common, this is a whole new experience. However, there is a long history of mask wearing even though it may be new to 21st century North Americans.
Mask wearing has a long, worldwide history. Historical evidence of masks goes back as far as 7000 BC. In the earliest records of African civilization they were used for rituals and communication with spirits. The Egyptians made death masks, exact likenesses of the deceased, to ensure safe passage to the afterworld. Wealthy and important people had masks made of precious metals, but even the poorest had masks fashioned from wood or a mixture of papyrus or linen soaked in plaster. The most famous royal death mask is that of King Tut. The Greeks used masks in their theatre. The wearing of a mask allowed the actor to transform into a different character. Indigenous peoples in North America used masks as part of rituals and still do.
Mask use in Europe became less common until the Renaissance when masks became an important part of the Venice Carnival. One thousand years later the tradition still continues.
Use of masks for medical reasons appeared in Europe during the various plagues of the Middle Ages. Doctors devised a peculiar looking leather headdress with a beak. The purpose of the beak was to contain perfume and various substances that would mask the foul odor of the plague and perhaps provide protection from the disease. The first recommendation to use cotton masks similar to what we know today was in an 1878 article written by Dr. A.J. Jessup, a Westtown, New York, physician and published in Scientific American. It read:
Thus we see that as quarantine and disinfection will certainly spread of contagion from patient to patient, may we not confidently hope, by preventing the entrance of germs into the lungs and blood, by a properly constructed filtering mask to yet witness the spectacle of a population walking about the streets of a cholera infested city, without fear of its infection however deadly. As a properly made cotton filter worn over the mouth and nose must shut out all atmospheric gems of the ordinary putrefactive kind. We may confidently assured that those of disease will be equally excluded.
Medical mask use by doctors became more common and by 1920 after the Spanish flu epidemic, they were universally used in surgery.
During the Spanish flu epidemic the wearing of masks was encouraged and there are photographs from the era showing people on the streets of North American cities wearing masks. Although today we are seeing some resistance to wearing masks for protection of others and ourselves,, several years ago they were seen as a fashion statement. In 2010, fashion designer Alexander McQueen featured face masks in his winter menswear collection. In 2018 Ariana Grande included face masks in her merchandise collection promoting her album and continues to include them. It seems that after being part of human culture since at least 7000 BC masks are here to stay.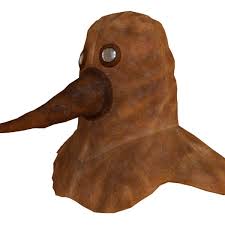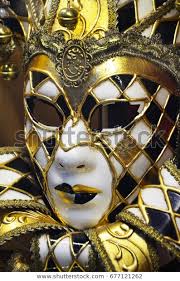 Plague mask Venetian mask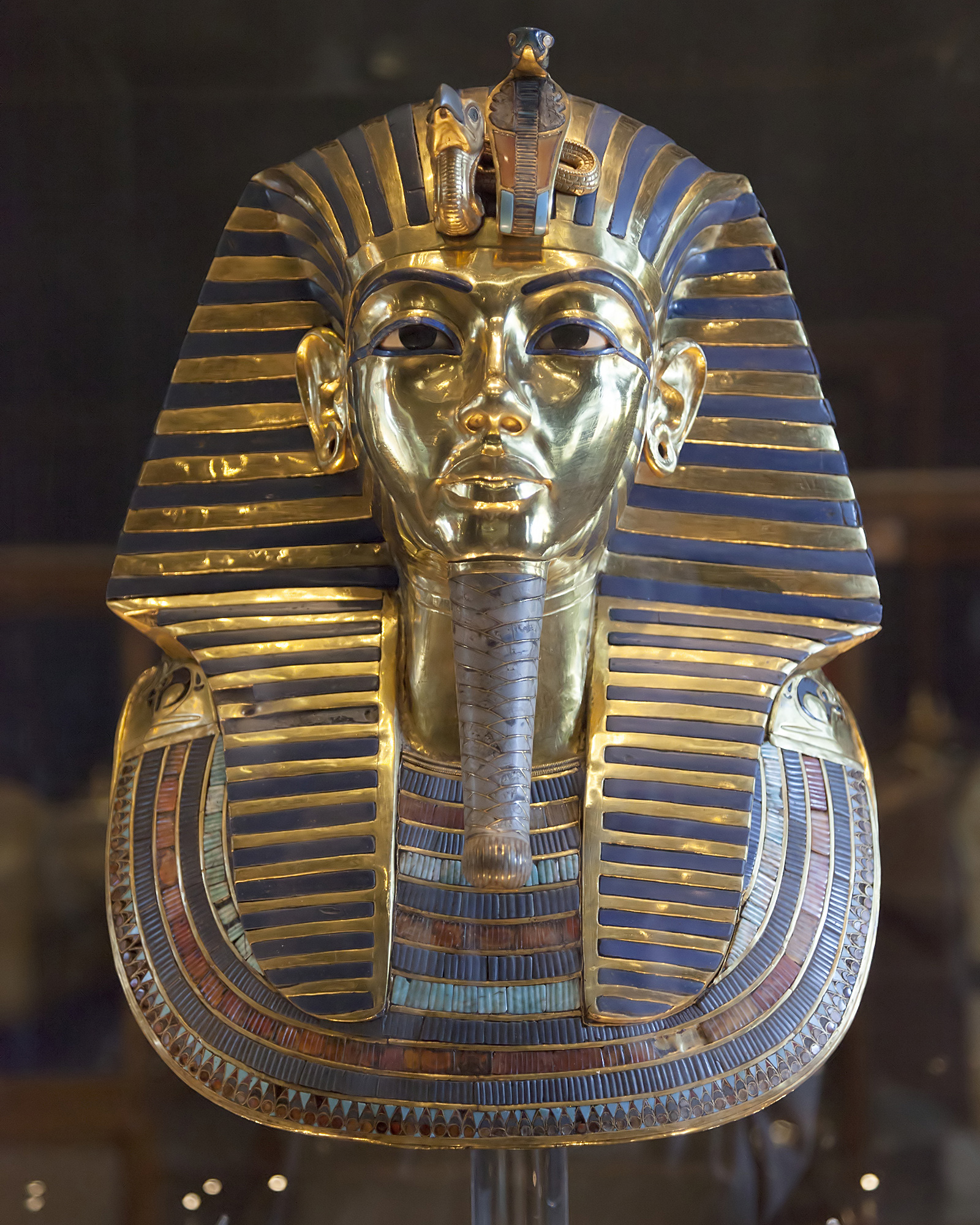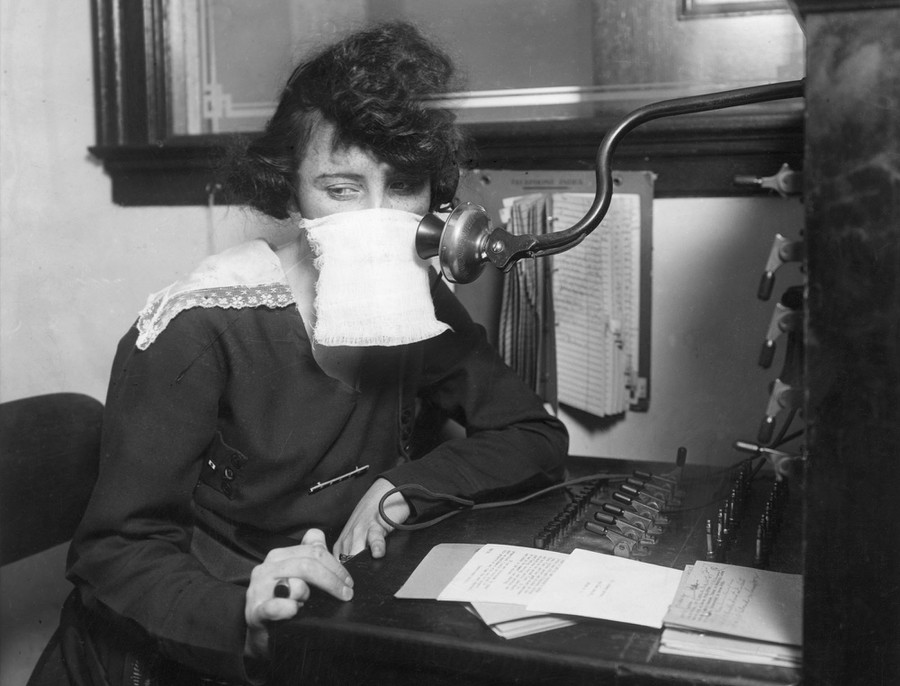 King Tut Mask wearing telephone operator
Our Historical Garden is Blooming!
We can't get onto the schoolhouse grounds yet to look after the garden, but when the schoolmistress was there one day to check on the schoolhouse and make sure everything was safe she took these photos. Seems the garden is doing just fine without us.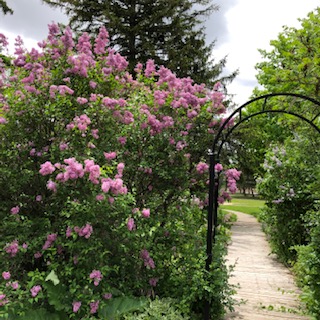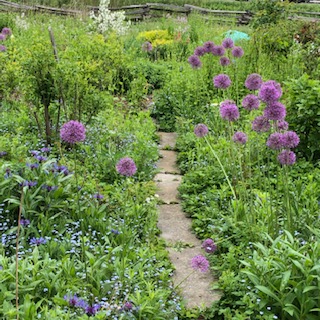 The Teachers' Arch The Garden Path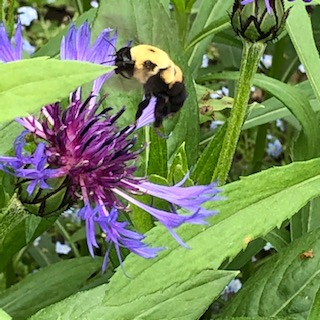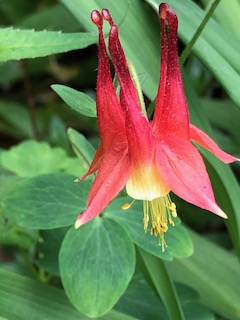 Bee on Batchelor's Button Columbine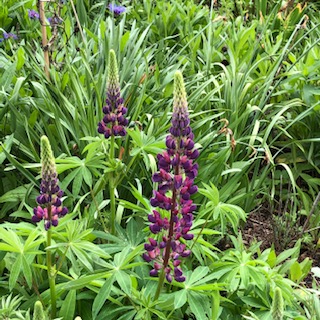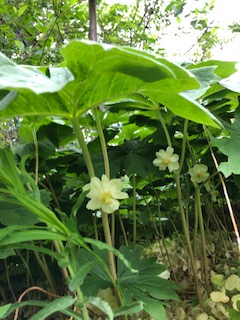 Purple lupine Mayapple Soloman's Seal
Coming Events
Be sure to check our Events Page for all the activities and events planned for 2019-2020. In addition to Open Sundays every second Sunday afternoon of the month, there will be a Christmas Sale at the Board Office, the annual Christmas Open House and Sale and Heritage Week celebrations.
Time to Renew Your Membership
Our membership year runs from January to December. Membership forms for renewal or new membership are on this website. Click here to get the form.
Echoes of the Past
This book, written and published by Friends of the Schoolhouse, documents the history of all of the rural one room schools that existed in Peel County. Full colour, 208 pages, $30 It is available at all our events or from any member of the Friends of the Schoolhouse Executive. There is a $10 charge for mailing.
Book Talks
Since the book, Echoes of The Past, was published in May 2016, the writers have been giving illustrated talks to historical societies and other interested groups. We talk about the book and tailor each presentation to suit the audience and the one room schools that were in their local area.
If your group would be interested in having a presentation, please contact Jean (905 826 3475) jkrob@rogers.com for further information.
Membership Drive
If you haven't already renewed your membership in the Friends of the Schoolhouse, it's time to do so. Our membership year runs from January to December. We welcome new members. Membership forms can be downloaded and printed using this link. Members play a vital part in preserving the schoolhouse and maintaining and expanding the programs for children who spend a day experiencing school life of long ago. Members receive four newsletters a year, additional notices of events, and are invited to an appreciation "Lemonade on the Lawn" event in July. In addition there are opportunities to volunteer on committees and at events.
Come and Join Us

If you have a couple of hours a month or only a few hours once or twice a year you could help us support the schoolhouse and its programs. The executive committee meets on the second Tuesday of the month from September to June to conduct the business of the Friends of the Schoolhouse and to plan programs and events. Our meetings are from 4 to 6 in the afternoon at the schoolhouse. Volunteers help on an occasional basis with our events and in the gardens. Not only do we support a worthwhile cause, we have a lot of fun doing it. Email our Executive Director Shirley Hoad at shoad@bell.net, if you have a few hours to spare and an interest in helping preserve a community treasure for future generations of children.
Open Sundays 2019-2020
1 to 4 pm - Something new every month from September to June.
For more information about our Open Sunday programs go to the Events page.
Mark Your Calendar
To see a list of our year's events go to the Events page.
Researching our Roots
There is still much more to discover about the Old Britannia Schoolhouse and other early one room schools. Read below for a wish list of "Wanted" items that will help us learn more about our historic schoolhouse.
WANTED
For use in a book on one-room schools in Peel County:
Minute Books
Cash Books
Class Photos
Report Cards
Prize Ribbons
Medals
Certificates
Shields
Contracts
Trustee Memorabilia
Teacher Memorabilia
Newspaper Clippings
School Registers
Your contribution will be acknowledged. Materials supplied will either be returned to you or donated to the Peel County Archives on your behalf.
SLATE Group
SLATE stands for So Let's All Talk Education (in a one room school), or as one witty person suggested, being truly Canadian, So Let's All Talk Eh! Each year for a day in the spring people involved in working or volunteering in living history one room schoolhouses get together to exchange ideas and learn from each other. We meet at a different schoolhouse location each year which gives everyone the opportunity to experience how living history is presented in a setting different from their own.

If you are a staff member or volunteer in a living history one room schoolhouse and would like more information about SLATE, contact:

Christine Chapel
The Old Britannia Schoolhouse
5576 Hurontario Street
Mississauga, ON
L5R 1B3
905-890-1010 ext 2911