Current News
Welcome to our website!
The Friends of the Schoolhouse web site will keep you informed about The Old Britannia Schoolhouse and the activities and events planned by the Friends' organization. We encourage you to check this site often. New information will be added monthly.
COVID 19 Information
All Friends of the Schoolhouse activities are cancelled until further notice. There will be no Open Sundays until September. Watch the Current News page for information in the coming months. The Friends wish everyone good health in these difficult days and weeks We look forward to seeing you at the schoolhouse in the future.
Spring Newsletter Online
Get the latest news from the Friends of the Schoolhouse. Although right now we can't meet you in person at our Open Sundays, we will keep you in touch with what we are continuing to do to support the Old Britannia Schoolhouse and the programs for students. Already teachers are optimistically booking visits for their classes for the coming school year. We look forward to the day when children can again experience a school day of long ago. Meanwhile, click here to read the newsletter. There is interesting information about past epidemics that affected the one room schools of Peel in the past.
Teaching and Learning Comes Full Circle
In the earliest days of settlement in Peel, a rural farming community would not have had a school. Everyone would be busy clearing the land and tending crops. Building a school and a church had to wait a few years. That didn't mean there was no schooling going on. Parents would teach the basics of reading and arithmetic when time permitted. More practical learning happened as children helped with farm chores. As little communities grew, children from several families sometimes gathered at one home for lessons. In researching our book, Echoes of the Past, the One Room Schools of Peel County, we occasionally came across schools that were held in a barn. A school and a church were high priorities for communities and within a few years they were build and schooling at home was a thing of the past.
Fast forward one hundred and fifty or so years to 2020. Although some children have continued to be home schooled, this is now the case for everyone. The COVID-19 pandemic has changed the education of children dramatically and placed unusually high demands on teachers, parents and children. The difference between the early 1800s and today is that curriculum expectations are far higher than the basic "3 Rs" of reading, writing, and 'rithmmatic. Now there are teachers but no schools to go to. Twenty-first century technology is helping to keep students and their teachers connected and provide support to parents who are taking on a task they never expected. Helping with homework is one thing. Actually teaching the material is something totally different.
Our Field Centre staff, including the schoolmistresses, has been busy creating online lessons and activities for children. More about their work is included in the newsletter. Below is a chart showing links to some of the activities.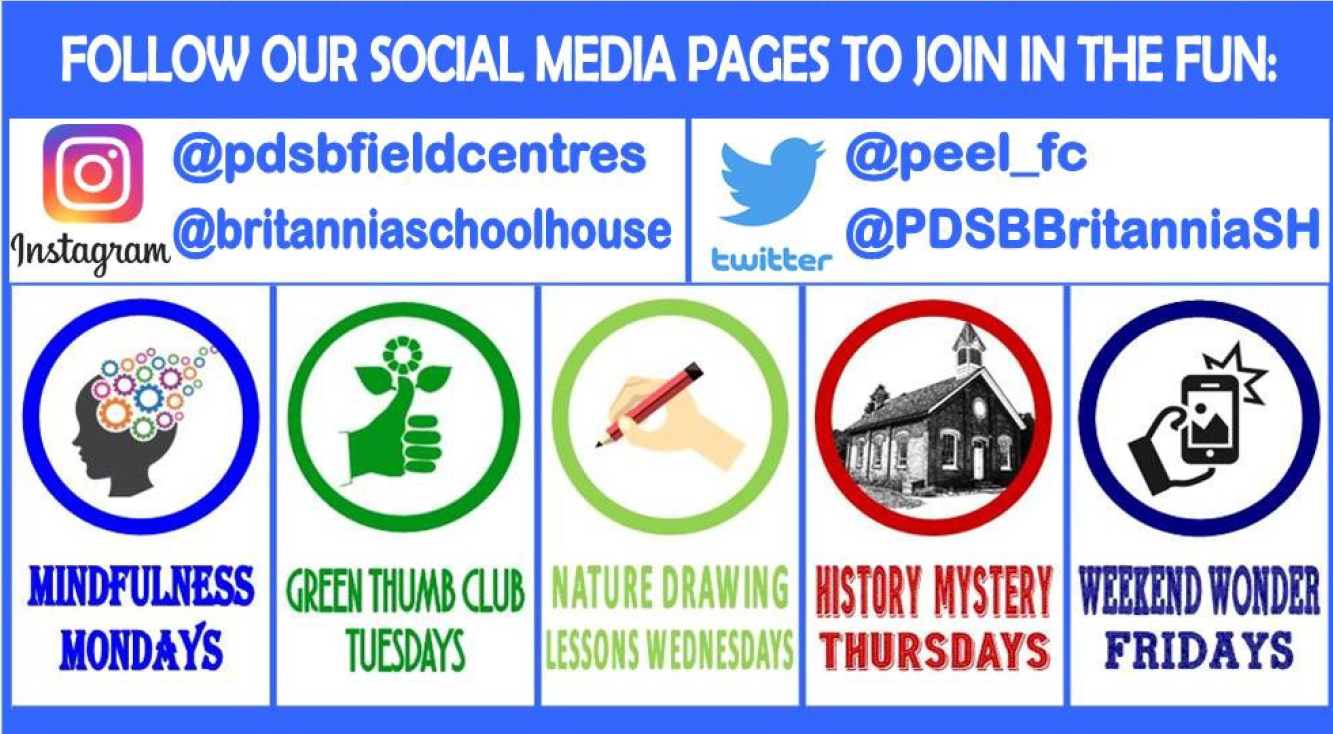 Garlic Mustard Soup
Ingredients
25 g butter
4 wild leeks, finely chopped (or swap out with 1 onion)
175 g garlic mustard, finely chopped
3 ripe pears, cored and roughly chopped
1 ltr vegetable stock
pinch salt & ground black pepper
200 ml double cream
juice of 1/2 lemon
Parmesan cheese (shaved to serve)
olive oil (to drizzle)
parsley (optional) (to garnish)
Instructions
Melt the butter in a saucepan and cook the wild leeks for 10 minutes, or until soft. Add the finely chopped garlic mustard to the leeks with the pears and stock, and season with salt and pepper.
Bring to the boil, cover, and simmer gently for 15 minutes. Remove from the heat and pour into a blender. Process until the soup has a very smooth texture.
Stir in the cream and lemon juice, adjust the seasoning, and serve sprinkled with Parmesan shavings and drizzled with a little oil.
To serve chilled, pour the soup into chilled bowls, top with crushed ice, and drizzle with a little olive oil. Garnish with parsley
Notes
The soup can be made up to 4 hours in advance and refrigerated until ready to use. It will keep in the freezer for up to 3 months.
Garlic Mustard Pesto
Ingredients
3 cups tightly packed, garlic mustard leaves (from rosettes)
1/4 tsp salt (or more to taste)
1 - 2 garlic cloves (or more to taste)
3/4 cup grated parmesan cheese
1 cup walnuts
1/2 cup extra-virgin olive oil (more or less to desired consistency)
Steps
Place all the ingredients, except olive oil, in a food processor or blender. Process,scraping down sides as necessary
Pour in olive oil, a bit at a time until desired consistency
Adjust salt to taste
Let it mellow for 3-4 hours; keeps well in fridge
Serving Ideas
Serve as a dip with crackers or with grilled vegetables, such as eggplant, zucchini, or onions
Toss to combine with your favorite shape of pasta
Add to a sandwich
Cooking Garlic Mustard
Coming Events
Be sure to check our Events Page for all the activities and events planned for 2019-2020. In addition to Open Sundays every second Sunday afternoon of the month, there will be a Christmas Sale at the Board Office, the annual Christmas Open House and Sale and Heritage Week celebrations.
Time to Renew Your Membership
Our membership year runs from January to December. Membership forms for renewal or new membership are on this website. Click here to get the form.
Echoes of the Past
This book, written and published by Friends of the Schoolhouse, documents the history of all of the rural one room schools that existed in Peel County. Full colour, 208 pages, $30 It is available at all our events or from any member of the Friends of the Schoolhouse Executive. There is a $10 charge for mailing.
Book Talks
Since the book, Echoes of The Past, was published in May 2016, the writers have been giving illustrated talks to historical societies and other interested groups. We talk about the book and tailor each presentation to suit the audience and the one room schools that were in their local area.
If your group would be interested in having a presentation, please contact Jean (905 826 3475) jkrob@rogers.com for further information.
Membership Drive
If you haven't already renewed your membership in the Friends of the Schoolhouse, it's time to do so. Our membership year runs from January to December. We welcome new members. Membership forms can be downloaded and printed using this link. Members play a vital part in preserving the schoolhouse and maintaining and expanding the programs for children who spend a day experiencing school life of long ago. Members receive four newsletters a year, additional notices of events, and are invited to an appreciation "Lemonade on the Lawn" event in July. In addition there are opportunities to volunteer on committees and at events.
Come and Join Us

If you have a couple of hours a month or only a few hours once or twice a year you could help us support the schoolhouse and its programs. The executive committee meets on the second Tuesday of the month from September to June to conduct the business of the Friends of the Schoolhouse and to plan programs and events. Our meetings are from 4 to 6 in the afternoon at the schoolhouse. Volunteers help on an occasional basis with our events and in the gardens. Not only do we support a worthwhile cause, we have a lot of fun doing it. Email our Executive Director Shirley Hoad at shoad@bell.net, if you have a few hours to spare and an interest in helping preserve a community treasure for future generations of children.
Open Sundays 2019-2020
1 to 4 pm - Something new every month from September to June.
For more information about our Open Sunday programs go to the Events page.
Mark Your Calendar
To see a list of our year's events go to the Events page.
Researching our Roots
There is still much more to discover about the Old Britannia Schoolhouse and other early one room schools. Read below for a wish list of "Wanted" items that will help us learn more about our historic schoolhouse.
WANTED
For use in a book on one-room schools in Peel County:
Minute Books
Cash Books
Class Photos
Report Cards
Prize Ribbons
Medals
Certificates
Shields
Contracts
Trustee Memorabilia
Teacher Memorabilia
Newspaper Clippings
School Registers
Your contribution will be acknowledged. Materials supplied will either be returned to you or donated to the Peel County Archives on your behalf.
SLATE Group
SLATE stands for So Let's All Talk Education (in a one room school), or as one witty person suggested, being truly Canadian, So Let's All Talk Eh! Each year for a day in the spring people involved in working or volunteering in living history one room schoolhouses get together to exchange ideas and learn from each other. We meet at a different schoolhouse location each year which gives everyone the opportunity to experience how living history is presented in a setting different from their own.

If you are a staff member or volunteer in a living history one room schoolhouse and would like more information about SLATE, contact:

Christine Chapel
The Old Britannia Schoolhouse
5576 Hurontario Street
Mississauga, ON
L5R 1B3
905-890-1010 ext 2911